The Red Meat Supply Chain Committee (RMSCC) is a steering committee with representation from all the different peak industry bodies.
The RMSCC focuses on identification and information technologies and systems, from livestock production through to domestic retailers and international markets.
The activities of RMSCC are complementary to the systems, standards, products and guidelines developed by AUS-MEAT.
Our Mission and Vision
The RMSCC seeks to be the red meat supply chains' first point of contact on information standards. The RMSCC wants to see businesses across the red meat supply chain talking to each other in the same language.
Goals
To facilitate the development of information standards for the industry.
To validate that the standards are fit for purpose, through endorsement by the AMILSC.
To see the standards adopted by the industry, through ease of access and training sessions.
To grow our representation of the industry.
To stay relevant to the industry, by providing a line of communication.
The role of the RMSCC is to:
Providing a path for reporting to the AMILSC on industry program and project activities related to information standards along the red meat supply chain.
Providing a path for communication back to government and industry bodies on relevant supply chain information standards, projects, programs and related activities.
Providing coordination, steering and governance support to programs and projects that request such support and only where the programs and projects activities relate to information standards along the red meat supply chain.
Committee Composition






Authority
Each member organisation of the RMSCC selects individuals to sit on the committee, governed by their own internal governance and policies.
Meetings are facilitated by AUS-MEAT, who selects the committee's Chair. In doing so, the RMSCC acts under of the authority of AUS-MEAT in regards to the creation and maintenance of standards for the red meat industry.
The RMSCC has the authority to create Working Groups to assist in the drafting of information standards for the purpose of publication. The RMSCC in turn provides governance and coordination to these Working Groups.
The RMSCC does not have authority over the publishing of the information standards it develops. Instead, the RMSCC submits information standards drafts to the AMILSC for endorsement and publication.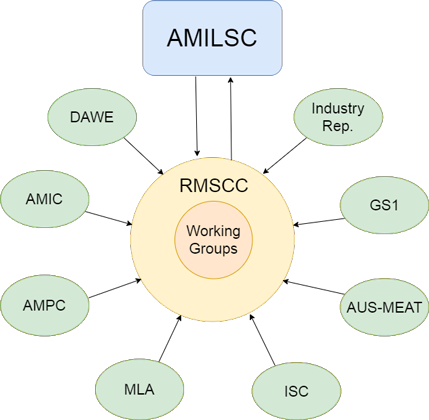 Authority Diagram